Free Walking Groups in San Diego
Discover the joy of walking and connecting with other individuals by joining a walking group!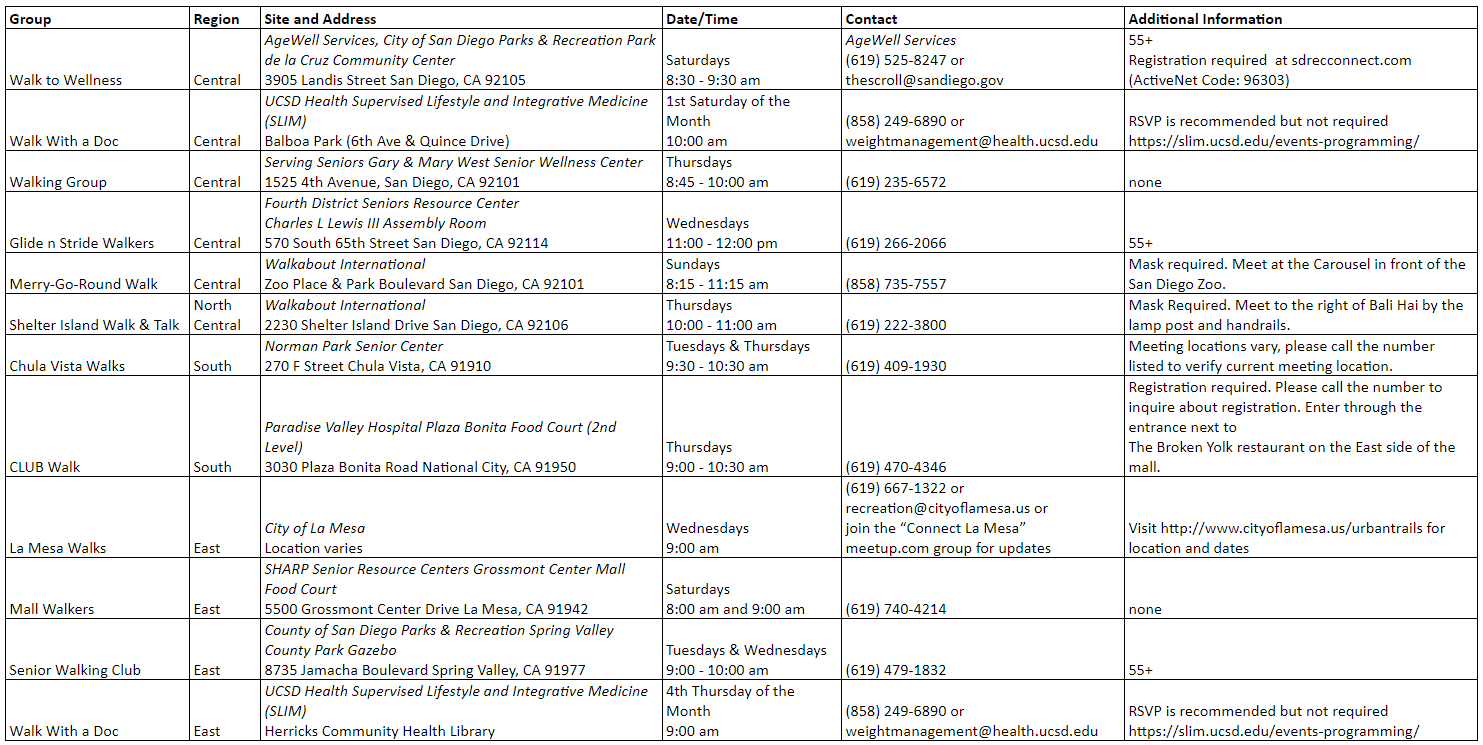 Parks with Hiking Trails in San Diego
Marian Bear Memorial Park
Explore this park, a stunning 467-acre preserve situated in the heart of Central San Diego. This park encompasses a diverse array of trails, ranging from gentle, flat pathways to invigorating steep hikes. It is located at 5491 Genesee Ave, San Diego, CA 92117.
Mission Trails Regional Park
Immerse yourself in this park, a 5,800-acre preserve in La Mesa. It boasts an impressive network of 40 miles of trails, ranging from leisurely strolls to invigorating hikes to even rock climbing adventures! Discover the Old Mission Dam, a California State Historical Landmark, skillfully constructed by the Kumeyaay Indians around 1816. Be enchanted by the picturesque lakes and the meandering San Diego River that grace this magnificent landscape. It is located at Mission Gorge Rd, San Diego, CA 92120.
Torrey Pines State Natural Reserve
Welcome to the awe-inspiring Torrey Pines State Natural Reserve, a magnificent 2,000-acre coastal state park nestled within the enchanting community of La Jolla, San Diego, California. Set just off North Torrey Pines Road, this extraordinary reserve is a testament to the untamed beauty that still graces the Southern California coast. This preserve hosts stunning coastal cliffs and meandering trails through lush greenery. It is located at 12600 N Torrey Pines Rd, La Jolla, CA 92037.

Proctor Valley Natural Resource Area
Embrace the untamed beauty of Proctor Valley Natural Resource Area, a hidden gem nestled in the heart of Chula Vista. Explore a diverse array of ecosystems as you wander along scenic trails, surrounded by the enchanting sights and sounds of wildlife. Discover the tranquility of rolling hills, vibrant meadows, and meandering creeks that harmoniously coexist within this remarkable natural refuge. It is located at Chula Vista, CA 91914.

Elfin Forest Recreational Reserve
The Elfin Forest Recreational Reserve, an awe-inspiring 784-acre open space park and recreational haven. The Reserve's allure lies in its captivating native plant communities, showcasing the splendors of oak riparian, oak woodland, coastal sage scrub, and chaparral ecosystems. It boasts about 11 miles of hiking trails where you'll encounter panoramic mountain vistas and captivating scenic viewpoints. This reserve is located at 8833 Harmony Grove Rd, Escondido, CA 92029.

Point Loma Ecological Reserve
This is a 650-acre non-contiguous Ecological Reserve Area (ERA) on Point Loma. Prepare to be enchanted by coastal hikes that offer awe-inspiring vistas and immersive encounters with nature's wonders. This reserve is located at 1800 Cabrillo Memorial Dr, San Diego, CA 92106.
Health and Wellness Events in San Diego
Herrick Community Health Care Library
The Health & Wellness Library hosts a variety of programs and events on relevant health topics almost every day of the week ranging from talks from health professionals to wellness programs such as chair yoga. If you're interested in what they have to offer, please follow click "Herrick Community Health Care Library" above to view their calendar. This library is located at 9001 Wakarusa Street, La Mesa, CA 91942

Live Well San Diego
Live Well San Diego is a comprehensive initiative launched by the County of San Diego in California. It aims to improve the health and well-being of all residents in the region by promoting a holistic approach to wellness and community engagement. To learn more about the events hosted by this initiative, please click "Live Well San Diego" above to their events list. If you own any resistance bands, click the button below to follow along an hour-long exercise video!

Tai Chi
This is an evidence-based program for fall prevention intervention that incorporates the Sun style of Tai Chi. Extensive research supports the effectiveness of this program in enhancing movement, balance, strength, and flexibility while promoting relaxation and reducing pain and the likelihood of falls. It is suitable for ALL adults, regardless if they have arthritis, rheumatic diseases, related musculoskeletal conditions, joint issues, back pain, or are at an increased risk of falling.

Feeling Fit Club San Diego
The Feeling Fit Club from the County of San Diego offers fantastic 1-hour-long easy workout videos! If you'd like to check them out, please follow the link below.


Yoga
San Diego offers a variety of wonderful yoga classes, some of which are available for free or on a pay-what-you-can basis. There is a pay-what-you-can class at Mission Beach at Ormond Court every day at 11:00 am, a donation-based class at Tower 5 at Ocean Beach every Saturday and Sunday at 10:30 am, and a free class at Balboa Park on the courner of 6th and Laurel Street every Sunday at 11:00 am to name a few. Click on the links below to learn more about the classes!